Providing Top-Notch Medical Services for More Than 40 Years
PUEBLO FAMILY PHYSICIANS, LTD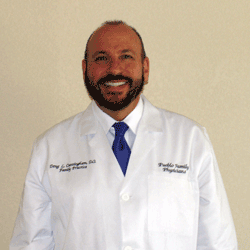 A native Phoenician, Douglas Cunningham, DO graduated with honors from Loma Linda University in 1982 with his BS in Biology. He then attended the University of Health Sciences, Kansas City, Missouri and graduated with honors in 1986 with a Doctor or Osteopathy degree. Dr. Cunningham had teaching appointments with Phoenix General Hospital and Midwestern University as an Associate Professor. He is Board Certified in Family Practice and awarded by the American Academy of HIV Medicine. Dr. Cunningham has been practicing medicine with Pueblo Family Physicians since 1988. In addition to his medical practice Dr. Cunningham is a world renowned specialist in HIV research and clinical trials- performing trials in the Phoenix location.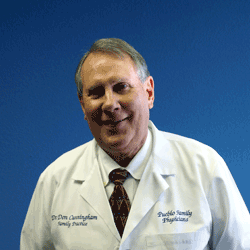 Donald Cunningham, DO is the original founder of Pueblo Family Physicians, dating back to 1967. In many cases Dr. Cunningham has treated 3 generations of families. Dr. Cunningham received his premedical education and his Doctor of Osteopathy degree from University of Kansas City. He is Board Certified in Family Practice. Dr. Cunningham enjoys his time off in the cool pines of Northern Arizona Rim Country. His hobbies include flying, motorcycling and boating. He has 2 sons and is an adoring grandfather and husband.
Our mission is to serve our patients with quality care dispensed with a human touch. Providing care to patients from pediatric to geriatric age, from well child visits to HIV management. We provide evidence-based medicine in a compassionate, creative healthcare environment creating solutions for our patients based upon their needs regardless of their financial situation.
The health and wellness of our patients is the top concern of this office. Providing the best possible care to every patient is our primary goal. The only way we can meet this goal is if we work together.
Pueblo Family Physician's Ltd. has been providing medical services in the Valley for over 40 years. Dr. Donald Cunningham and Dr. Douglas Cunningham have 2 offices and 10 Physician Assistants and Nurse Practitioners.
Many of our patients have been with us since the beginning and we pride ourselves upon the multigenerational relationships established and maintained by our team.
We take great pride in providing optimal medical care as well as superb customer service. Your problems are our problems!
Call us today to schedule your appointment. We will do our best to provide you with an appointment that meets your busy schedule.
Phoenix Office
Douglas L. Cunningham, DO, AAHIVS
Alfredo Flores, FNP
Nikita Garrett, FNP-BC
Lea Nickolas, FNP-BC, AAHIVS
Trey Powrzanas, FNP
Phillip Prusinski, FNP
Sherri Sessler, PA-C
Scott Sabish, FNP, AAHIVS
Scottsdale Office
Donald G. Cunningham, DO
Robert Hoadley, FNP
J. Michael Holder, DO
Patricia Li, FNP
Deborah Locke, PA-C